The best weapon against fake news is true news. So when 'Trust me, I'm a journalist' fails to charm, should journalists work harder at their credibility?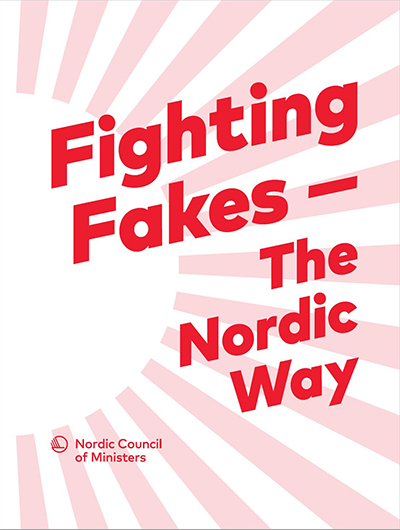 'Fighting Fakes – the Nordic Way' considers ways to improve journalists' reputations as one way to counter fake news. Written by journalists and media professionals and launched in May on World Press Freedom Day, the paper recommends a more proactive approach to distinguishing journalists from the rest of online media, "journalists should not be hesitant in communicating what they represent, what makes them professional and trustworthy."
And it notes that "there is little willingness among journalists to be transparent on journalistic considerations and the production processes before publishing a story. Neither do we have the willingness to correct errors promptly."
Unlike other sectors – construction, health, infrastructure, supply chains, government – where there are strict controls and procedures to prevent mistakes or accidents, "quality control seems to be an unknown concept in many media houses. Spending resources on fact-checking and other efforts to make sure that the truth is presented has never been a priority in our business. It has, more or less always, been up to the reporters to make sure that their stories are accurate, fair and relevant."
This lack of self-examination by journalists, noted by the Nords, is paradoxical given their task is to critique others in power. Why? Possibly it's because, until recently, there hasn't been the need for that level of reflection. Before social media, according to the paper, the public had few ways to complain; now 'crowd checking' has become a feature of the internet, exposing sloppy journalism and factual errors.
Written for the Nordic Council of Ministers (pictured above), the paper recommends fighting fake news with self-regulation, but warns against any political interference of journalists, "We need to … enforce the self-regulatory system in order to rebuild trust and dialogue with citizens. This is a matter of quality, fact-checking, high ethical standards… It is not possible (for) the law to ensure reliable and credible journalism. Legislation will inevitably lead to censorship because it allows politicians to take control."
In the new environment increasingly dominated by online sources, the Nords make a number of recommendations on how to better distinguish journalists from the rest of media; although, as with all projects to repair reputation, there are no short-term solutions:
Support a diverse media landscape, with investigative journalism essential in a free and independent media;
Come up with better ways of fact-checking, including more self-regulation of social media;
Promote critical thinking amongst journalists and more responsible content production;
Promote media literacy so the public better understands the similarities and differences between propaganda, advertising, information and journalism;
Avoid legislation as a solution;
Facilitate roundtables and other gatherings among journalists and professions with an interest in media to look at ways of improving reputation;
Greater transparency in the way media works.
You can download and read the Fighting Fakes – The Nordic Way PDF here.